Events
At Alingua we do more than language courses. A unique aspect of our work includes the organisation of engaging and fun events, especially for children. Through the process of play and in a relaxed and homely environment our students can acquire a foreign language much faster.
Euromarkt 2019

Alingua will be present on the EUROMARKT 2019 at the European School on 5 May from 11h00 to 16h00.
English Summer Club 2019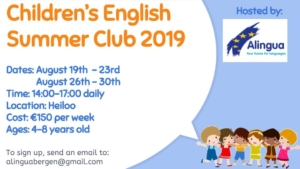 Learn English with Mrs. van Kiel, in our popular English Summer Club.
Please register now. Places are limited!
English Board Game Club

Play and Learn English in our Board Game Club. Good for your brain, good for your English.
Enjoy learning English in a group through fun and unique board games.
Mondays 16:30 – 17.15
Musical Rumpelstiltskin

Musical performance on Friday 15 June 2018 at 1.45 pm by children for Dutch at Alingua.
The English Kids Cooking Club

Would you like a fun and cosy club for your children aged 4-7 during the colder months of the year? If so, the English Cooking Club is just for you. Over four Saturday mornings, your kids will experience the joy of creating their own dishes in the kitchen while communicating in English!
Mind your language

The workshop is about how to manage your child's exposure to foreign languages. As more and more families become global citizens, the languages they are exposed to is increasing. Children from these families are being exposed to 2 or more languages.
Pluktuin Bakkum

Every year in April join a typical Dutch experience. In the morning drink coffee at Karin's (our Dutch teacher) and after come and explore the beautiful tulip fields of North Holland and pick your own bunch of flowers!